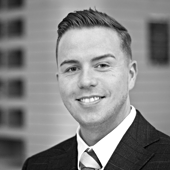 Adam Gray
Enterprise Business Development Manager – Business Development
I am an Enterprise Business Development Manager at Switchee. My role is all about working with new clients to strategise and deliver scale deployments of Switchee. I support the team in enabling social housing providers to access insights and analytics across their portfolio of properties to better understand how they are performing, and support their residents in a highly focused and proactive manner, creating a better quality of life for people living in rented homes. My focus in on making the biggest nett positive impact, both to our sales organisation and to the wider marketplace; using my years of experience in the built environment, PropTech and complex sales environments to drive performance, adoption, and communicate our unique value proposition.

I enjoy the independence Switchee offers, while enabling full support and collaboration across the organisation. We have a suite of first-class tools and mechanisms for supporting cross-functional teams, with regular feedback and recognition for our support and successes across the business, large and small. As a remote business it is of paramount importance that we stay connected, and I am incredibly proud to be part of an organisation which truly stands by its values and recognises individuals who demonstrate them throughout their careers. My team are unified in a way I've never experienced before, which gives me the confidence and drive needed to deliver excellence each and every day - which is fantastic for everyone we interact with!

Outside of Switchee I am particularly enthusiastic about property development (commercial and residential), sustainability generally, technology and innovation, space & aeronautical engineering, as well as all things entrepreneurial. I adore reading about people who have a vision to make a better world, even in a very small and specific way, and their journey to turning that vision into a reality - with all its ups and downs along the way. For fun, I like to hit the gym, play guitar until my fingers are sore (and my partner's ears), and I've recently taken up golf, so often lose more than a few golf balls on a round!