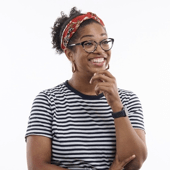 Rochelle Hadley
Customer Success Manager – Customer Success
Hi!
I joined the Switchee Customer Success team in Summer 2022. It's my first role working in social housing and I have loved the learning journey so far! My job entails making sure our customers are making the most of their investment, benefiting them and their residents.

I've always been very focused on organisations that make an active change and are mission led. I myself came from a charity background before moving into Customer Success and find that Switchee as an organisation is aligned to my personal mission and values which is always a great situation to be in.

Outside of work, I enjoy cooking, baking and sometimes going to the gym; I love a pub quiz but my general knowledge is a bit rusty! My lunches are either spent watching something on Netflix or walking Wilson the needy Labrador.