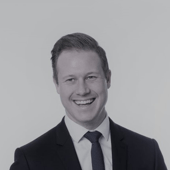 Tom Robins
Chief Executive Officer – Company Directors & Founders
Hello, I'm the Chief Executive of Switchee and it is my job to set Switchee's strategic goals and then enabling the Switchee team deliver them. I've spent my career in scale-up businesses, mainly in commercial roles. I love the pace of change, the growing, the learning and the impact of working as part of a scaling business on a mission.

I joined Switchee as I was convinced that we had the right technology, in the right place, at the right time. I believe that in 10 years every rented home in Europe will have technology like ours and it is our challenge to be that piece of technology. We can reduce carbon, we can improve the quality of life for people living in rented homes and we can create a great place to work - all at the same time. 

I have a young family and so the balance between competing demands is one which I understand and we have introduced a lot of life-friendly policies. I like a little competitive exercise every now and again but most of all I like messing around on the water with family and friends.